Post Forming Machines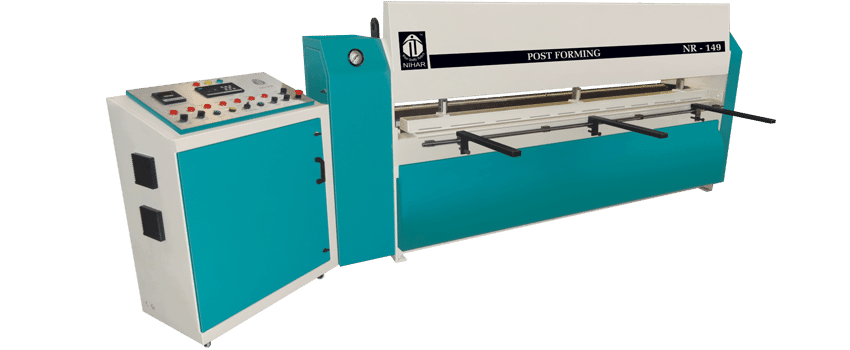 Nihar Industries designs and develops Post Forming Machine units that come fitted with pneumatic cylinders for applying uniform pressure to aid in proper bonding of the laminates. The machines also come with a number of useful features such as mechanical drive control as well as drive motor along with brake to reduce possibility of slippage of the rotary parts.
Users can program the machine for manual cycle runs and automatic cycle runs. This makes it easier to work through initial trials and settings. These post forming machines also come fitted with hard chrome-plated heater bars that ensure long life and smooth operation. One of the most interesting benefits of using platforming laminate machines is that they can be programmed for automatic post forming cycles that can guarantee faster production rates and seamless working.
| Description | Unit | NR – 149 |
| --- | --- | --- |
| Max Job Length | mm | 2440 |
| Min. Job Length | mm | 300 |
| Job Thickness Range | mm | 16-125 |
| Min. Job Width | mm | 150 |
| Max Heating Temp | c | 200 |
| Compressed Air Requirement | Kg-cm2 | 7 |
| Heating Element | KW | 3 |
| Electric Motor – 3Phase | HP | 0.5 |
*Specifications are subjected to change without notice.
Automatic Post forming cycle
Pneumatic cylinders to apply uniform pressure on job for effective bonding of Laminates
Facility for manual and Automatic
Hard chrome plated heater bar for smooth operation and long life
Mechanical drive control
Drive motor with brake is provided to avoid slippage of rotary part
Applications of Woodworking Postforming Machines
The post forming machines developed by Nihar Industries can produce high octane performance each and every time, thereby helping users to make the most of their investment. Each wood postforming machines comes with the stamp of hallmark quality that Nihar Industries is known for.