New Panel Saw Machines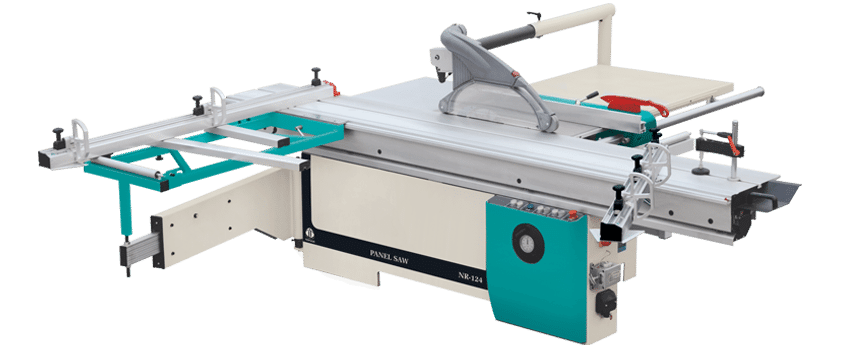 At Nihar Industries, New Panel Saw models are designed and developed that offer a range of technical advantages over the classic panel saw machines. These machines are characterized by highly user friendly design, a sturdy and compact structure that can deliver years of robust performance even with little to no maintenance. Such features make the new panel saw machines ideal for different kinds of wood cutting projects.
The blade of this machine is titled at an angle of 45 degrees which can be further customized according to the needs of the project. The speed of the saw blade may vary between 4000 or 5000 rotations per minute, depending on the modes chosen. The design of the new panel saw table makes it quite convenient for the users to work with different types of wooden planks or PVC panels rather conveniently.
Description
Unit
NR – 124-A
Sliding Table Size (L X W)
mm
3200 x 435
Rip Capacity / Cutting Width
mm
1250
Main Saw Section
Saw Blade Diameter
mm
300(250 – 350)
Shaft Diameter
mm
30
Tilting of Saw Blade
Deg.
90° – 45°
Max Cutting Depth at 90°
mm
75
Max Cutting Depth at 45°
mm
51.5
Speed of Saw Blade
RPM
4000/6000
Saw Blade Motor
HP
7.5
Scoring Saw Section
Scoring Saw Blade Diameter
mm
120
Shaft of Scoring Saw
mm
20
Speed of Scoring Blade
mm
8000
Scoring Blade Motor
HP
1
*Specifications are subjected to change without notice.
Apply to processing all kinds of density boards, shaving boards, wood-based panels, ABS panels, PVC panels, organic glass plates and solid wood and others with wood structure and similar hardness
Movable table guide track is plating chromium steel balls structure, exact and durable
Made of high-strength extruded aluminum alloy, movable table is high in strength and wont bend
With oxidation treatment, movable table surface is beautiful and hardwearing
Tilt angles of main and scoring saw blades are displayed directly by precision inclinometer
Applications of New Panel Saw Machines
Nihar Industries is a leading producer and distributor of high grade New Panel Saw Machines that can be used for effective processing of wooden boards. These machines are equipped with a number of features that make them even better than traditional panel saw machines.
Wood Cutting
Panel Cutting
MDF Cutting
Laminate Cutting