CNC Router Machines : NR-115 R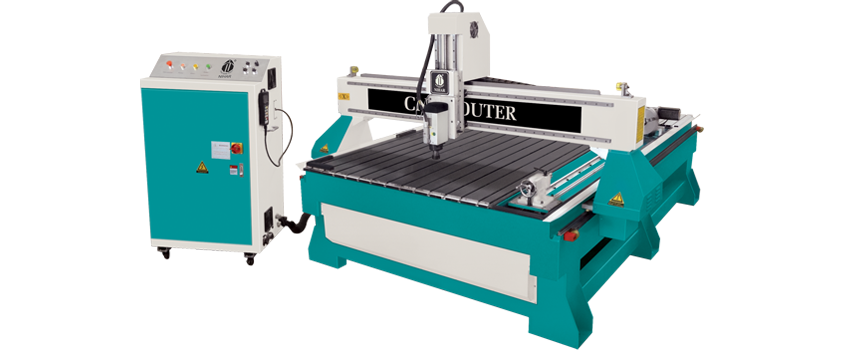 Nihar Industries is known for producing top quality New CNC Router machines that are welded with heavy duty seamless steel structure. They are also treated with vibration aging methods that guarantee perfect stability for all operations. This ensures complete protection against deformities that may occur while under operation. HIWIN square guiding rails imported from Taiwan are used with the three axes. The X Y axes are equipped with rack and pinion transmission which offers low cost but high efficiency performance.
These machines are equipped with a range of other features as well that ensure fast and robust performance under various circumstances. The Z axis is fitted with German Ball Screw that not only delivers high precision performance but also ensures long lifeline. In case there is a power failure, the machine can be again programmed for re-carving with the same level of precision. The machine also allows users to forecast the processing time.
| DESCRIPTION | NR 115 R |
| --- | --- |
| X – Y – Z Movement | 1300 x 2500 x 200mm |
| Repositioning Accuracy | 0.01mm |
| X-Y Movement | Taiwan Rack & Pinion Transmission |
| Z Movement | German Ball Screw |
| Table Size | 1440 x 3040mm |
| Max Idling Speed | 35 M/Min |
| Max Cutting Speed | 25 M/Min |
| Working Voltage | 3 Ø / 380V / 50 HZ |
| Spindle (Air Cooled Italian HSD Spindle) | 6 HP, 0-18000 RPM |
| Drive Motor | Servo |
| Command | G Code (* .mmg, *.plt,* .tap) |
| Computer Interface | USB |
| Cable & Cable Guide | "IGUS" German |
| Controls | NK-105 / NC Studio |
| Collet Type & Size | ER 32 (3mm, 6mm, 12mm) |
| Work Piece Holding | Manual T – Slot Clamping |
| Vacuum Clamping | Optional |
| Rotary Job Size | Max. Dia. 150mm X 1500mm |
*Specifications are subjected to change without notice.
Whole Steel structure, Taiwan Linear Square orbit, Gear Rack for X Y axis, German Ball Screw for Z axis, Advance NK105 System.
Artcam, Type 3 and Wentai Software Support
Option available with Italian HSD spindle for long time maintenance free accurate operations.
High Speed stepper motor. Two for Y axis, and one for Each X & Z axis
Auto Oiling and aligning system
Applications of New CNC Router Machines
Each and every New CNC Router Machine that is designed and crafted by Nihar Industries has been tested to deliver high precision results for diverse projects. The machines can also be customized fully to produce target specific results.
Membrane Doors
Wood Carving
3D Engraving