Multi Boring Triple Raw Machines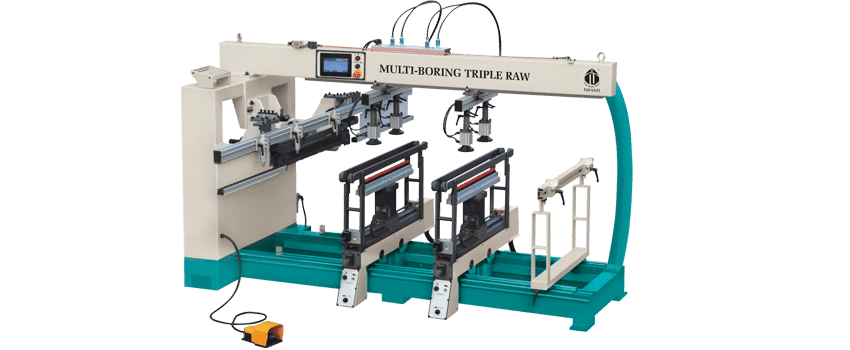 Nihar Industries is a reliable name when it comes to the designing and manufacturing of Multi Boring Triple Head machines. These machines come with a range of great features that make it all the more easier for the users to obtain great results from them. Such features make these machines perfect for different types of projects that come with advanced boring requirements.
For instance, the machines are provided with a digital LED display that allows users to achieve precise drilling speeds that are displayed accurately. This also makes it easier for the users to maneuver the machine according to their needs. The maximum width for a piece of wood that can be worked on this machine is 1850 mm. The maximum distance between two consecutive horizontal boring positions is 640 mm.
| Description | NR – 153 |
| --- | --- |
| Max. width of work piece (X direction) | 1850mm |
| Max. Distance of two horizontal boring position | 640mm |
| Min. Distance of vertical drilling group | 128mm |
| Max. Thickness of work piece | 78mm |
| Max. Depth of horizontal boring head | 40mm |
| Max. Depth of vertical boring head | 70mm |
| Rotating speed of boring spindles | 2800rpm(50Hz) |
| Vertical boring power | 1.5KW |
| Horizontal boring power | 1.5KW |
| Working pressure | 0.6-0.8Mpa |
| Power | 3KW / 415V /50 Hz |
*Specifications are subjected to change without notice.
Applications of Woodworking Multi Boring Triple Head Machines
Well-designed Multi Boring Triple Raw Machines can greatly enhance the value and output of any wood processing session. That is why Nihar Industries takes special care in creating Multi Boring Triple Raw Machines that are absolutely state of the art.
Panel Drilling
Ply Drilling
Lock Drilling