Multi Boring Double Raw Machines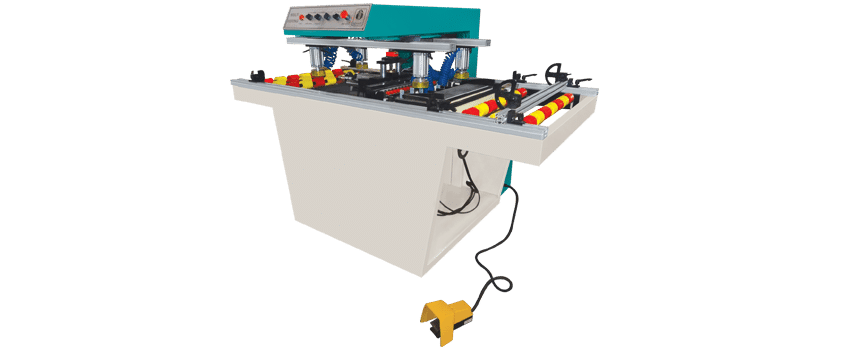 Nihar Industries is the proud manufacturer of Multi Boring Double Raw Machine units that come with precise and flawless boring or drilling details. Each of the two spindle heads included in these machines come with 21 spindles that help in the drilling process. The maximum working thickness that is offered by these machines is about 80mm. The center distance between the spindles is 32mm. The rotation speed of the spindles is 2800 RPM. The maximum drilling diameter offered by these devices is about 32mm. The drilling depth that can be achieved by these machines is 640mm.
The designing team at Nihar Industries has also packed a range of other useful features with these multi boring double raw machines that make them indispensable for different types of drilling projects. For instance, these machines allow users to change the drills easily and quickly during a project that allows in generating different types of required results. The machines are made with a heavy duty and rigid frame for holding the boring heads. These machines also come with a pneumatic clamping arrangement as well as a locking system of the spindle shaft. Special anti wear materials are used for the sliding parts that enhance the longevity and endurance of the machines.
| Description | Double Raw |
| --- | --- |
| Maximum thickness | 70mm |
| Maximum Size of Job | 2000mm X 640mm |
| Number of Spindle Head | 2 Nos |
| Number of Spindles in One Head | 21 Nos |
| Total Spindles | 42 Nos (21 + 21) |
| Center Distance Between Each Spindle | 32mm |
| Center Distance Between First & Last Spindle | 640mm |
| Minimum Centre Distance Between Two Vertical Head | 405mm |
| Maximum Centre Distance Between Two Vertical Head | 500mm |
| Shank diameter of drill | 10mm |
| Spindle Rotation Speed | 2800RPM |
| Maximum Drilling Diameter | 32mm |
| Drilling Depth | 0-50mm |
| Compressed Air Requirement | 6-8 kg/cm2 |
| Total Power | 1.5KW / 415V /50 Hz |
*Specifications are subjected to change without notice.
Easy and quiok changing of drills
Pneumatic clamping arrangment
Locking system of spindle shaft
Rigid and heavy duty frame to holding boring heads
anti wear materials for sliding parts