Hot Press Machines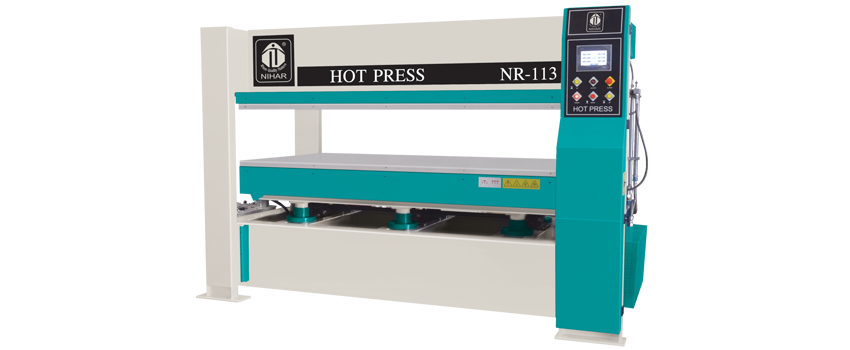 Nihar Industries designs and manufactures state of the art 120 ton hot press machines that are known for their compact designs, superior pressing efficiency as well as consistent performance. The sturdy construction of the machine guarantees swift and highly accurate pressing results. The best part of choosing the hot press machines manufactured by Nihar Industries is that they are less on maintenance and can yield high productivity consistently for year after year.
The machines are equipped with advanced hydraulic systems that ensure high output with low input. The machines feature Italian made Calpeda pumps for the circulation of oil. Siemens Control System and German Hydraulic Power pack is the key features for machine excellent performance. The 42 mm plate thickness of plates ensures robust pressing results for different products. There is also a leak protection hydraulic cylinder that comes with these machines. There are also a number of other features that allow users to customize the functioning of these machines.
Description
NR-113
Capacity
120 Ton
120 Ton
No of Platen
2 Platen (Single Layer)
3 Platen (Two Layer)
Platen Size
2500 x 1300 x 42 mm+/-0.2 mm
2500 x 1300 x 42 mm+/-0.2 mm
Daylight Gap
380 mm
170 mm
Nos. of Cylinder
6 (Six)
6 (Six)
Diameter of Ram
85 mm
85 mm
Stroke of Ram
400 mm
400 mm
Heating Medium
Thermic Oil
Thermic Oil
Hydraulic Power
2.25 Kw
2.25 Kw
Heating Power
18 Kw
28 Kw
Circulating Pump Power
0.75 Kw
0.75 Kw
Total Power Required
21 Kw
31 Kw
*Specifications are subjected to change without notice.
Heavy duty high quality fabricated steel structure
Leak proof hydraulic cylinder
Hard chrome plated rams
Equal heating in all daylights
Accurate welded and machined for minimum deflection
Heavy duty german power pack
Maintenance free hydraulic systems
Siemence PLC control
Italian Circulating pump
Applications of Hot Press Machines
Each of the Hot Press Machines for plywood, doors & laminates that are delivered by Nihar Industries can provide with a high level of efficiency for various projects. Moreover, they can also guarantee consistent performance for a long period of time.
Veneer Doors
Laminate Doors
Laminate Pressing
Moulded Doors
Micra Doors
Veneer Pressing